HYDRO VACUUM
EXCAVATION TRUCK
8000L – 1500 HERCULES / 2500 THOR / 3770 GOLIATH
AUSTRALIAN OWNED AND MANUFACTURED
8000L – 1500 HERCULES / 2500 THOR / 3770 GOLIATH VAC TRUCK POWER COMBINATIONS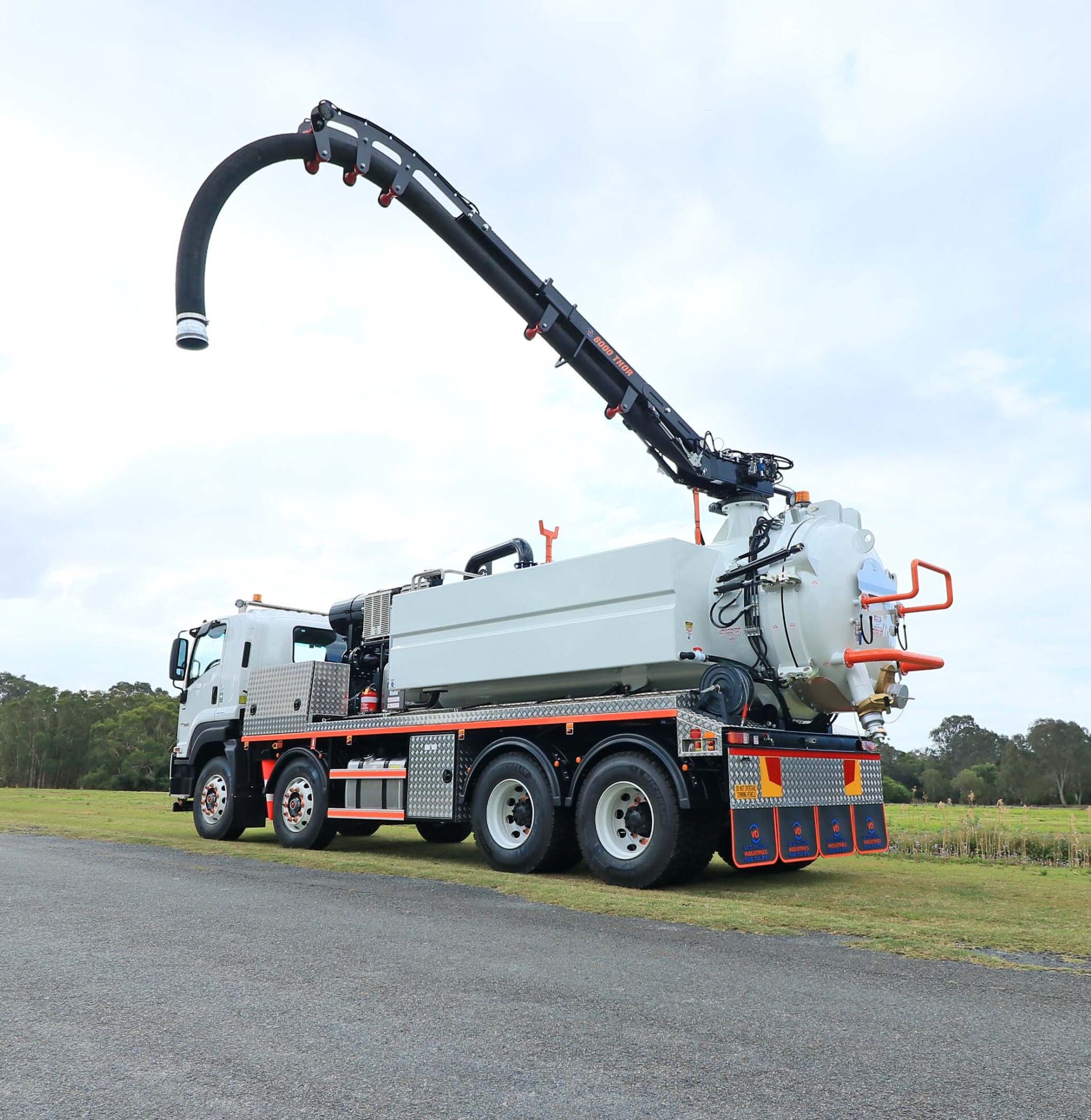 The 8000L hydro vacuum excavation truck produces uncompromising reliable power, performance, capability and capacity.
Hydro excavation safely excavates in situations where normal excavation machinery cannot be used. This non-destructive form of digging can remove almost any kind of surface without damaging existing infrastructures such as telecommunications, fibre optics, Telstra cables and underground power lines, as well as around and under concrete and driveways.
Common usage includes:
Bulk non-destructive digging / hydro excavations
Underground services and pipeline locations
Confined space excavation through over and under obstacles at distance, overhead at height or underground at basement level.
Mud and drill spoil recovery
Removal and excavation of slurries, thick sludge, solid and liquid waste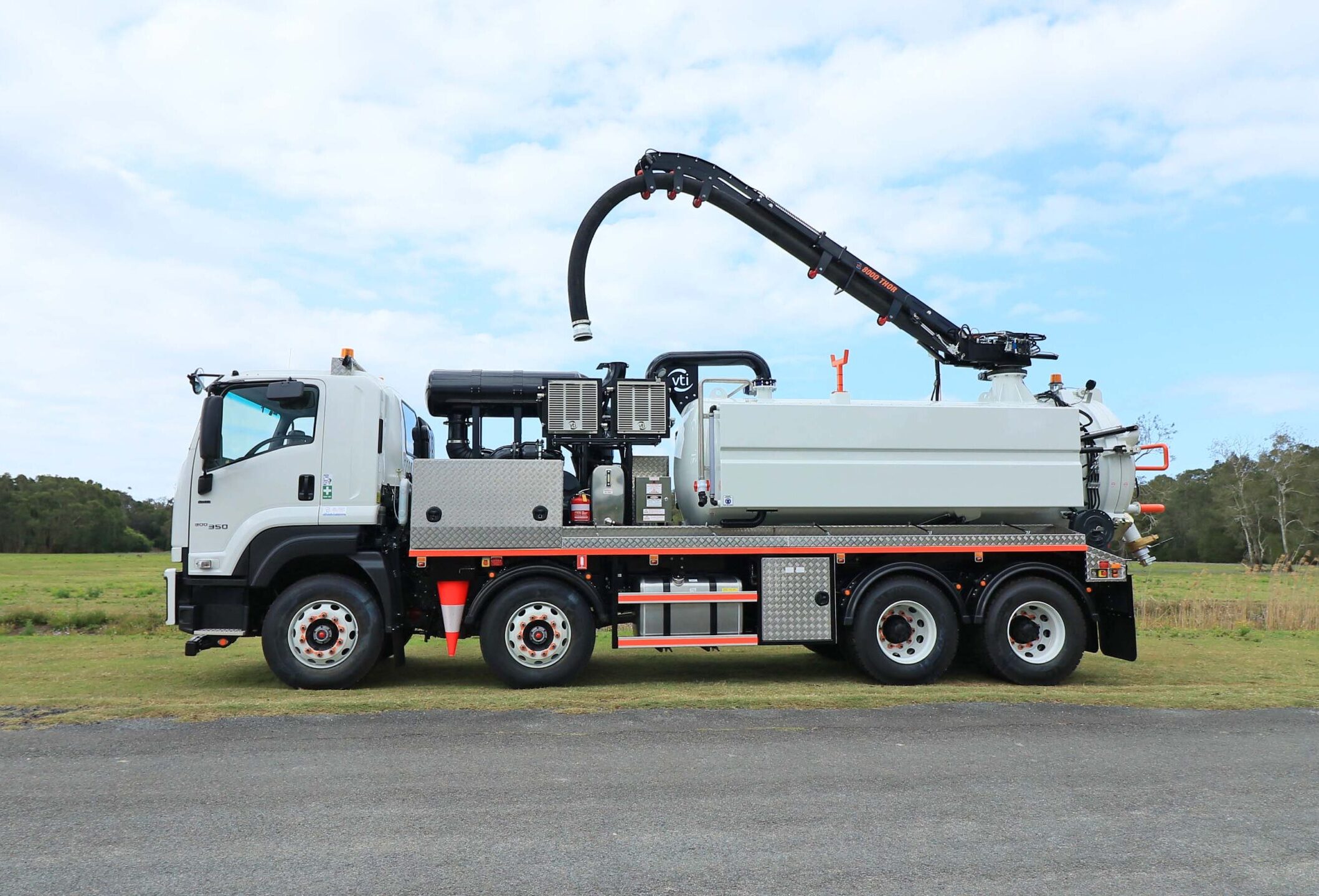 Spoil Tank And Blower
8000L spoil tank capacity (10mm thickness) – designed and certified to AS1210
Jurop style locking system for spoil tank door
Hercules series – Jurop PVT 400, high mercury, air inducted – 1500cfm (28′ Hg)
Thor series – Jurop Helix 750, high mercury, air injected – 2500cfm (28′ Hg)
Available with Jurop PVT 400, high mercury, air injected – 1500cfm
Jurop pneumatic 4-way valve – vacuum and pressure (Hercules series only)
Butterfly travel and relief valves fitted for safety and compliance
Day (high) and night (low) option for blower operation
WATER TANK AND SYSTEM
4000L capacity – water tanks combined
Water tanks baffled for safety and stability
2″ stainless steel water fill system with isolation taps
Water level sight indicators on both tanks
Comet TW8036 water pump – 32l/m at 3600psi
Heavy-duty hose reel complete with 25m 3/8 high-pressure water hose with quick release fittings (dual hose reels and pump options available)
Lances – 1500mm, 2100mm and flexi (0.90 Suttner nozzles)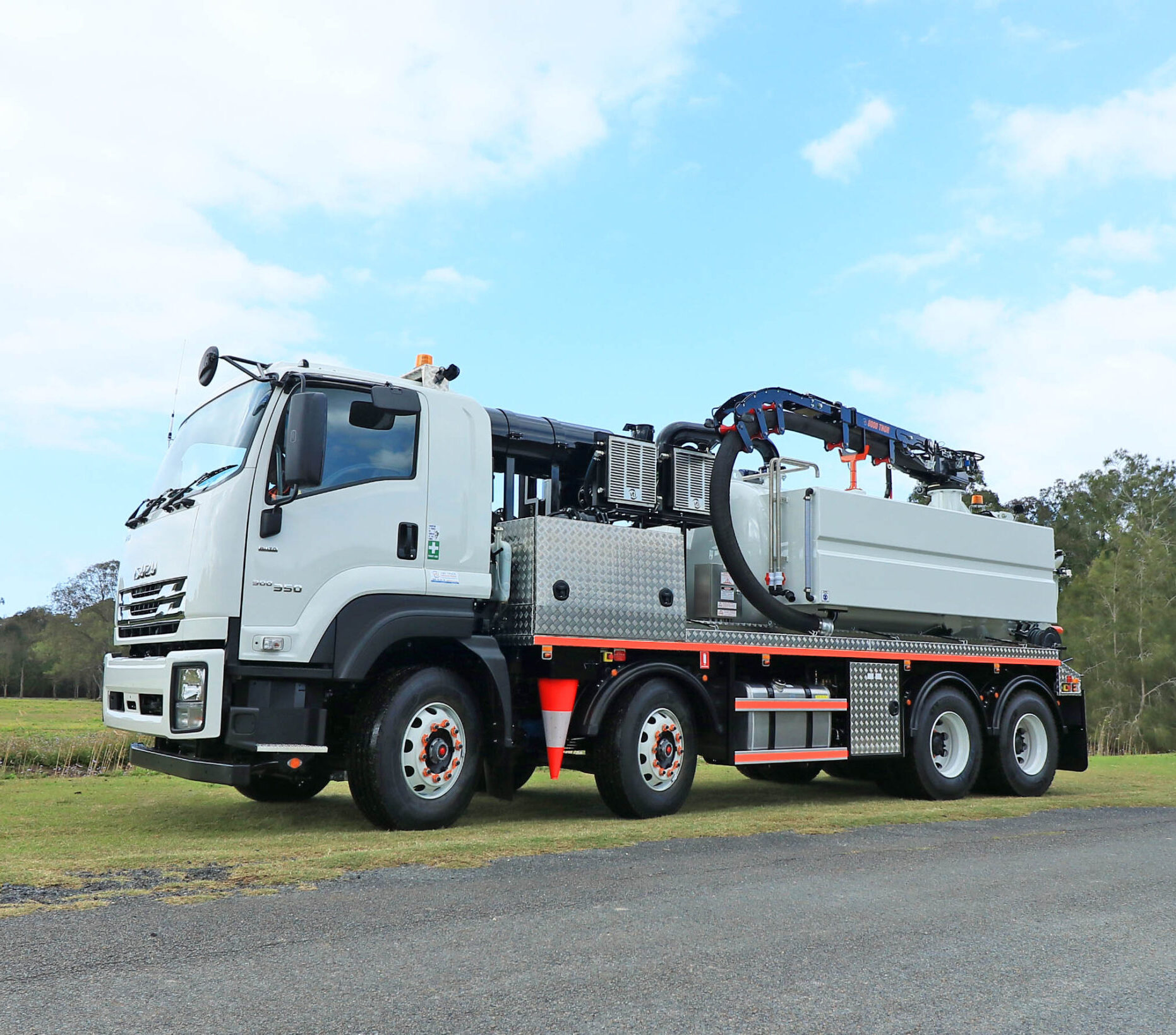 GENERAL
VTI full-length passenger side aluminum hose try storage – with tie-down points and straps for load containment
Unique VTI driver side storage box for tooling and equipment with integrated 3 lance holder box
Side intrusion bars with high visibility reflective tape
Starter and battery isolation switches with lockout facility. Emergency stops fitted in a key position on the tray
LED rotating lights and work lights fitted to the truck and spoil tank
Interlocks and warning alarms fitted to park brake, spoil tank, and boom
20m x 4' or 5' polyurethane vacuum hose with fittings of choice
9kg fire extinguisher with mounting bracket and notification decal
Full mine site compliant safety decals
Easy to clean baghouse and cyclone setup, accessible from the ground
Angled base on cyclone and baghouse for easy washout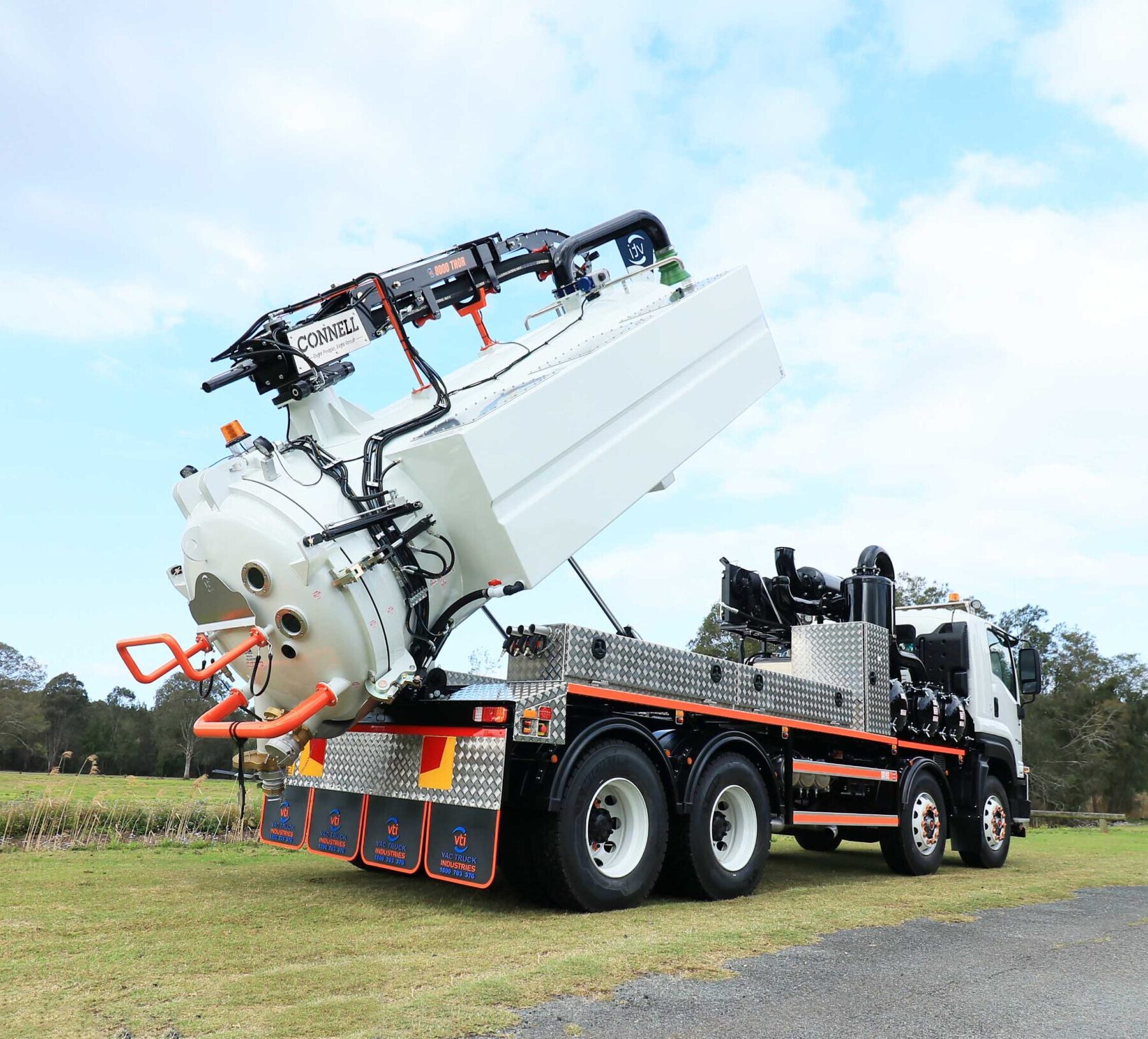 HYDRAULIC SYSTEM
Dual PTOs with piston pumps
PTO with piston pump and Omsi split shaft assembly (Thor series)
Danfos PVG32 proportional control valve
170ltr oil tank with twin oil coolers
All cylinders fitted with over centre valve
6″ BOOM ASSEMBLY
Full hydraulic remote-controlled boom with 2 x lodar remotes
5' or 6' boom suction hose option
Plugin boom pendant control for an override of boom functions
2 x LED work lights mounted at the front of the boom (if fitted)
TRUSTED AUSTRALIAN FINANCE
vac truck Finance Options
Click below to apply online today or call our finance specialist Troy Morris on 0419420955.