HYDRO VACUUM
EXCAVATION TRUCK
10000L – 1500 HERCULES / 2500 THOR / 3770 GOLIATH
AUSTRALIAN OWNED AND MANUFACTURED 
10,000L – 1500 HERCULES / 2500 THOR / 3770 GOLIATH POWER COMBINATIONS
The largest in VTIs Hydro Vacuum Excavation Truck range, the 10,000L – 1500 / 2500 / 3770 sets a new benchmark in performance, reliability, flexibility and profitability.
This unit has been designed and built to outlast and outperform the operational demands of the construction, civil, electrical, infrastructure, mining, drilling, oil, and gas industries. Allowing for more time on-site and less time to travelling to dispose of waste, this unit was built to deliver faster results, shorter lead times and deliver a higher return on investment for your business.
The increased tank capacity provides greater flexibility to handle a diveristy of waste materials and job requirements.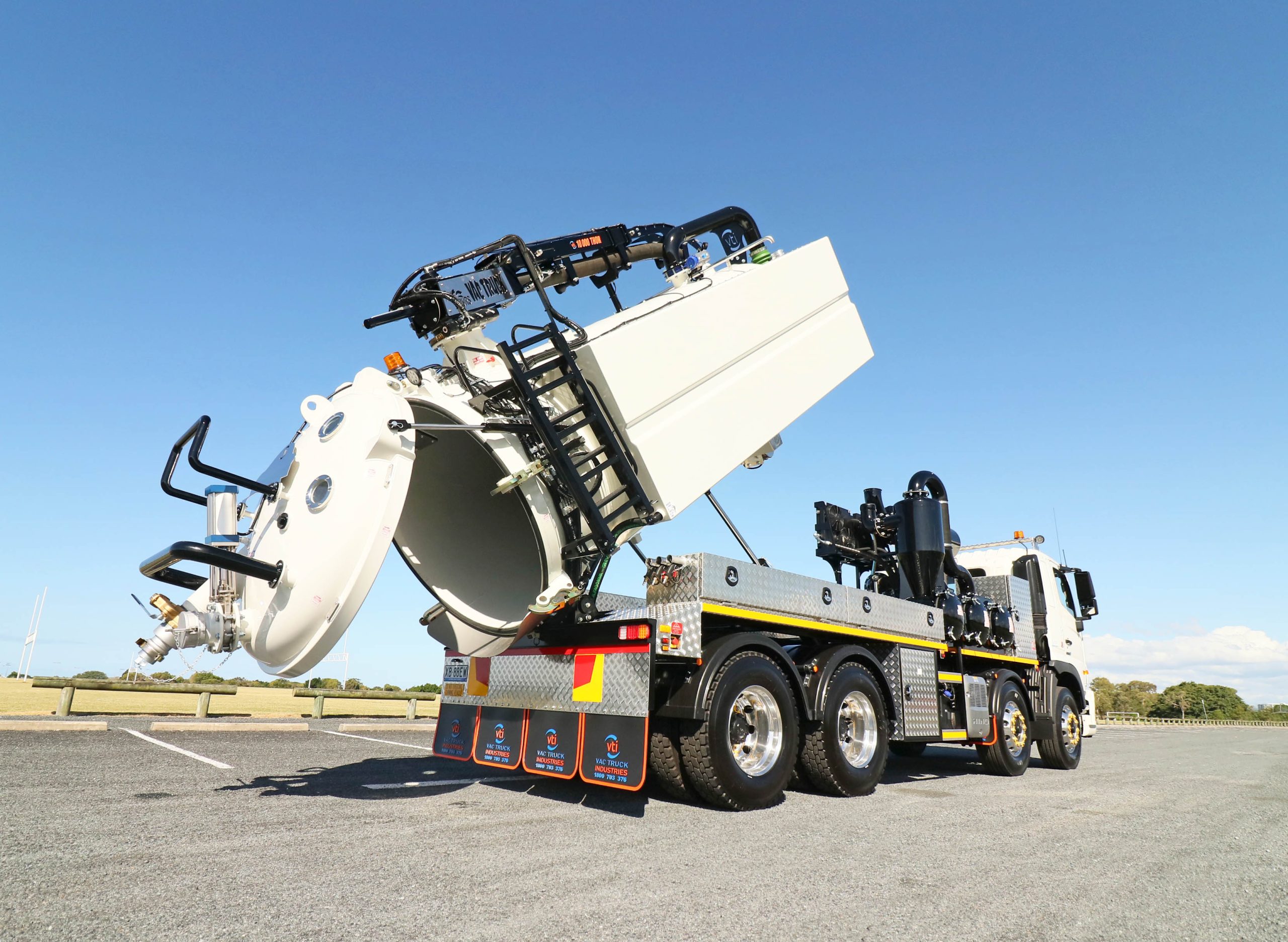 Its design accomodates the need for carrying and disposing of heavier quantities of liquid, sludge, and solids, making it suitable for more complex and demanding projects.
Its larger tank decreases the need for frequent disposal, resulting in less downtime for transportation off-site. Operational, transportation and disposal expenses are also minimised, perfect for larger projects that involve substantial waste generation or remote locationss where waste disposal facilities are not easily accessible.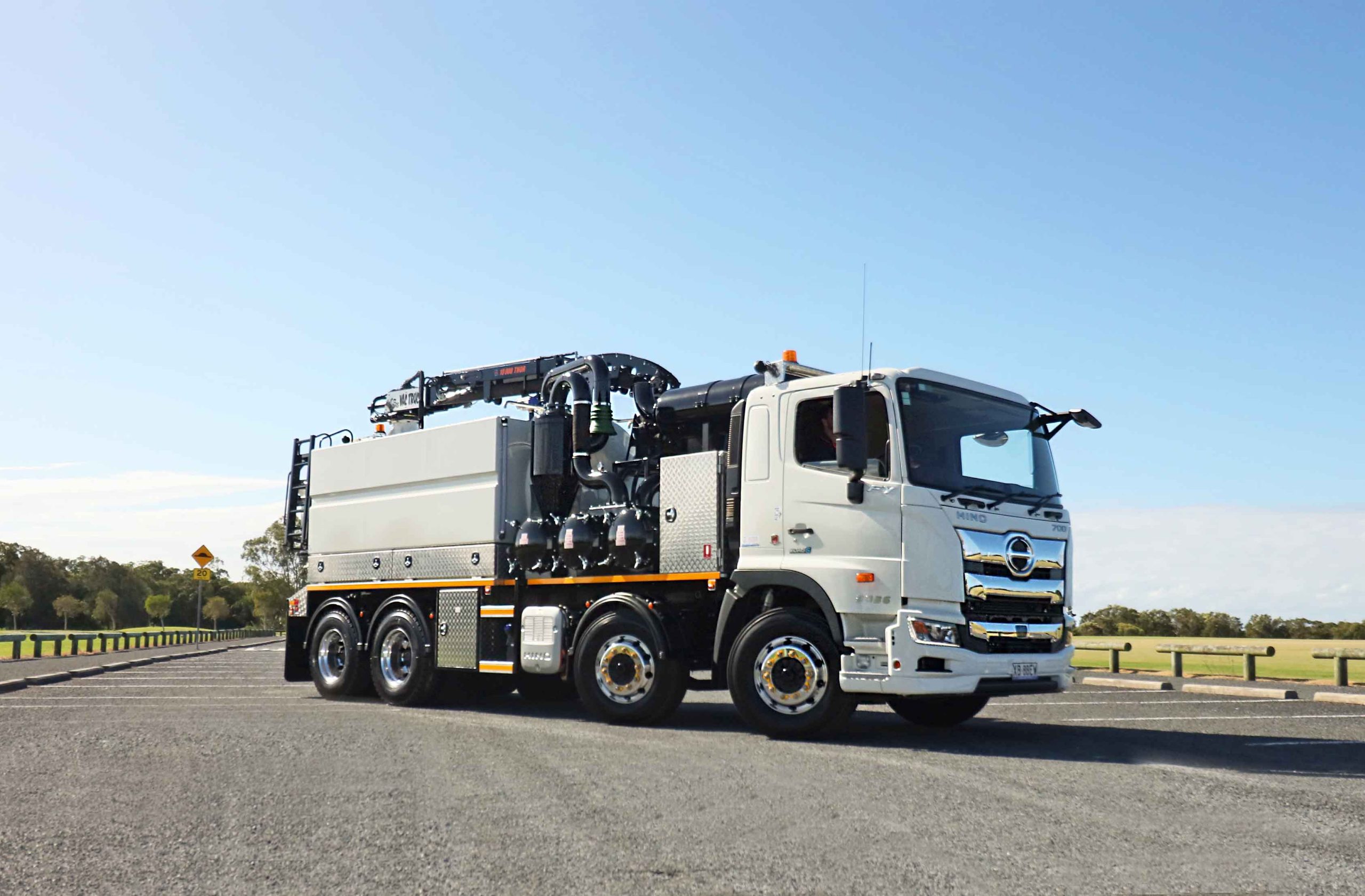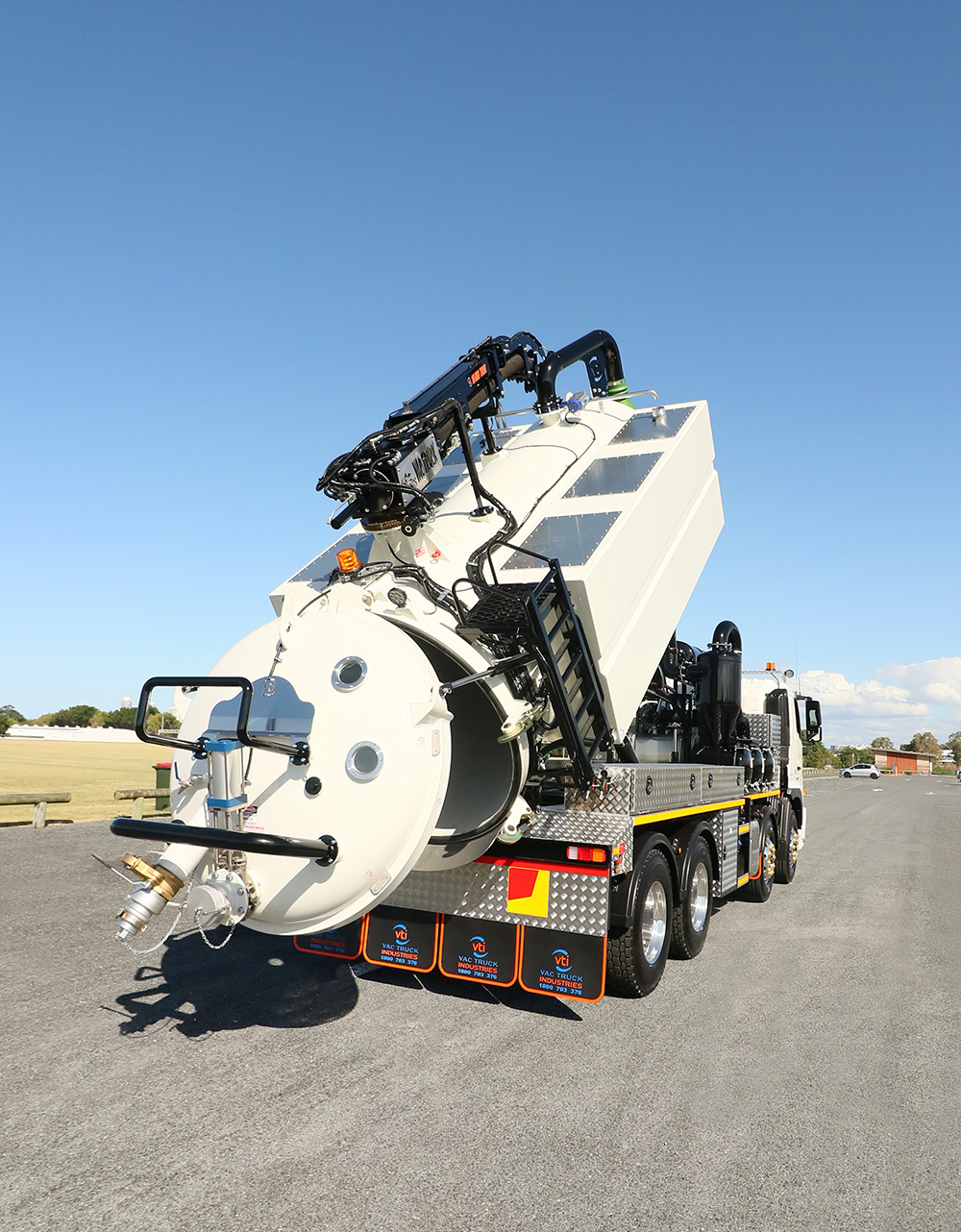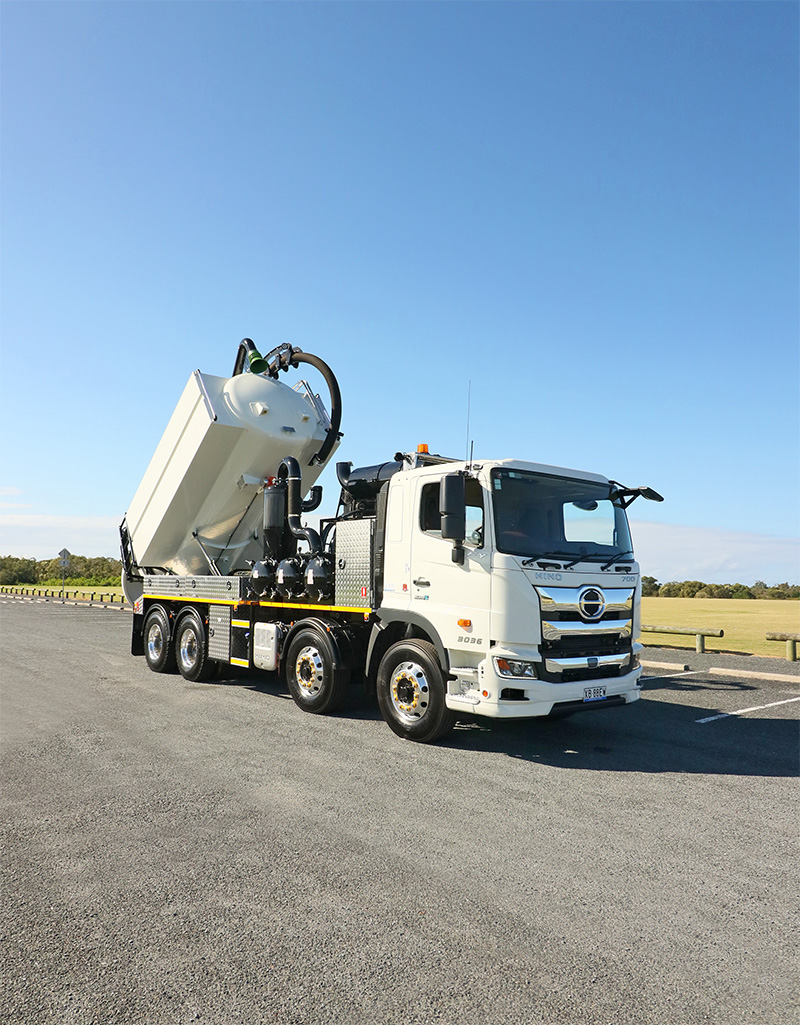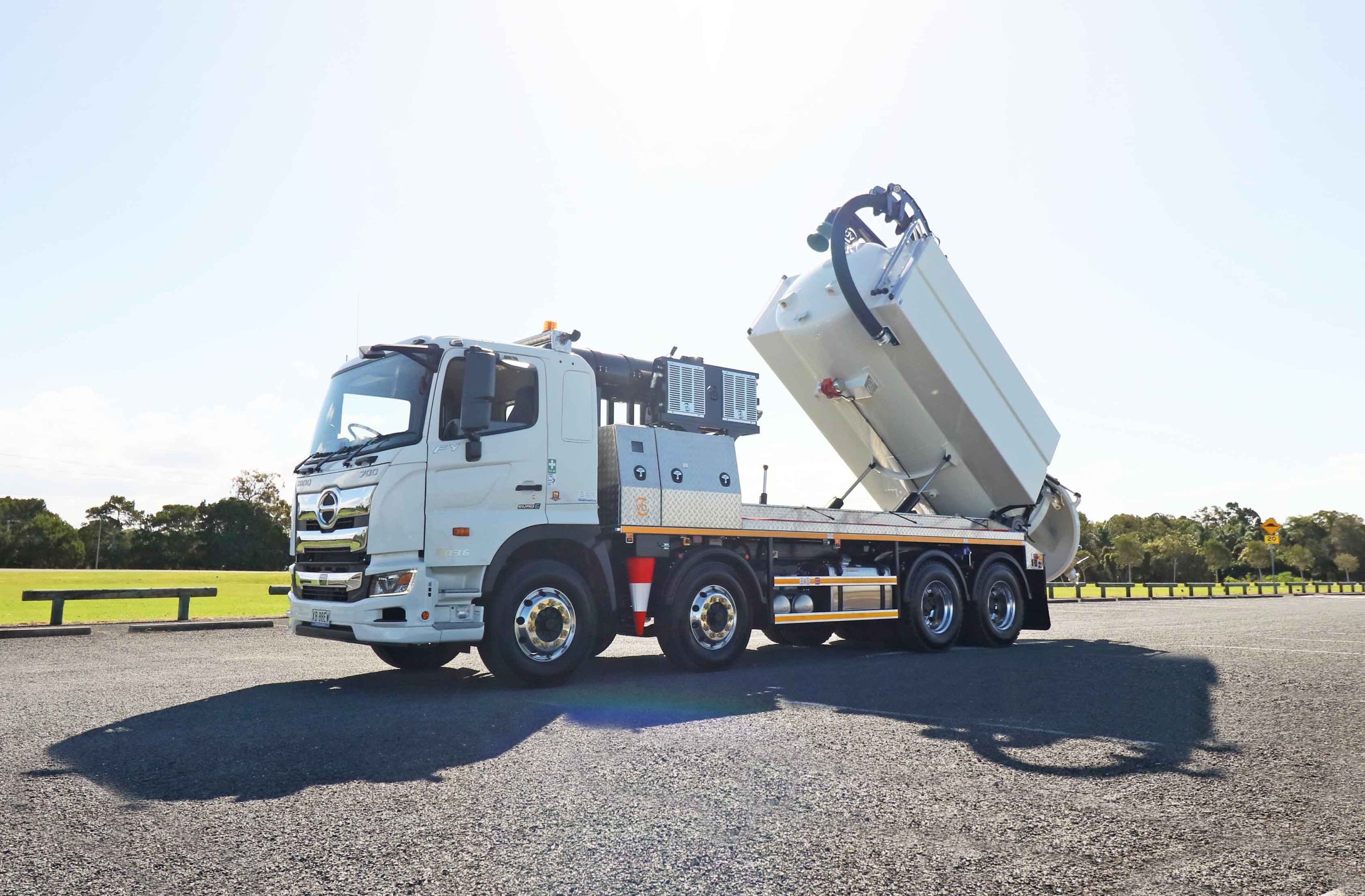 10,000L Hydro Vacuum Excavation Truck
Spoil Tank And Blower
10,000L spoil tank capacity (10mm thickness) – designed and certified to AS1210 – Class C

Jurop style locking system for spoil tank door

Hercules series – Jurop PVT 400, high mercury, air injected – 1500cfm (28" Hg)

Thor series – Jurop Helix 750 high mercury, air injected – 2500cfm (28'' Hg)

Butterfly travel and relief valves fitted for safety and compliance

Day (high) and night (low) option for blower operation
WATER TANK AND SYSTEM
4000L capacity – water tanks combined

Water tanks baffled for safety and stability

2″ stainless steel water fill system with isolation taps

Water level sight indicators on both tanks

Comet TW8036 water pump – 32l/m at 3600psi

Heavy-duty hose reel complete with 25m 3/8 high-pressure water hose with quick release fittings (dual hose reels and pump options available)

Lances – 1500mm, 2100mm and flexi (0.90 Suttner nozzles) Jetter
GENERAL
VTI full-length passenger side aluminum hose tray storage – with tie-down points and straps for load containment

Unique VTI driver side storage box for tooling and equipment with integrated 3 lance holder box

Side intrusion bars with high visibility reflective tape

Starter and battery isolation switches with lockout facility

Emergency stops fitted in a key position on the tray

LED rotating lights and work lights fitted to the truck and spoil tank

Interlocks and warning alarms fitted to park brake, spoil tank, and boom

20m x 4" polyurethane vacuum hose with fittings of choice

9kg fire extinguisher with mounting bracket and notification decal

Full mine site compliant safety decals

Easy to clean baghouse and cyclone setup, accessible from the ground

Angled base on cyclone and baghouse for easy washout
HYDRAULIC SYSTEM
Dual PTOs with piston pumps

PTO with piston pump and Omsi split shaft assembly (Thor series)

Danfos PVG32 proportional control valve

170ltr oil tank with twin oil coolers

All cylinders fitted with over centre valve
6″ BOOM ASSEMBLY
Full hydraulic remote-controlled boom with 2 x lodar remotes

5" or 6" boom suction hose option

Plugin boom pendant control for an override of boom functions

2 x LED work lights mounted at the front of the boom
TRUSTED AUSTRALIAN FINANCE
vac truck Finance Options
Click below to apply online today or call our finance specialist Troy Morris on 0419420955.